Crossing Footprints CIC
Crossing Footprints generates creative production towards action for human rights, environment, equality and wellbeing. More than ever before there is a realisation that change is needed, that structures which prevent change have to be both exposed and radically altered, and that we need to understand the long view of how we got here.
We are a newly formed Community Interest Company based in Manchester and London, involving a network of mostly BAME members and freelance professionals with strong and diverse track records. Our work is built on over 30 years of collaboration and activity led by our director Kooj Chuhan in various capacities such as our precursor organisation Metaceptive Projects and the artist collective Virtual Migrants. This includes award winning projects connecting race, migration and climate change, and work that has been shown across the UK and internationally. Heritage projects include a recent collaboration with the Southern Voices group exploring WWI and the British Colonies, and a number of projects with First Cut Media focusing on the African and Caribbean communities in and around the Moss Side and Hulme areas of Manchester.
Migration Stories NW is a unique opportunity for historians, creative workers and local communities to engage with the real and mostly hidden stories of migration that underpin every aspect of our modern world. Crossing Footprints are keen to collaborate and nurture this important history, with which we can gain resilience to develop strong identities, social justice and mutual interdependence for future generations.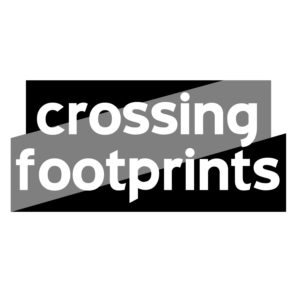 Contact: Kooj Chuhan and Mickela Sonola
E-mail: hello [at] crossingfootprints.com
Web: crossingfootprints.com
facebook.com/crossingfootprints